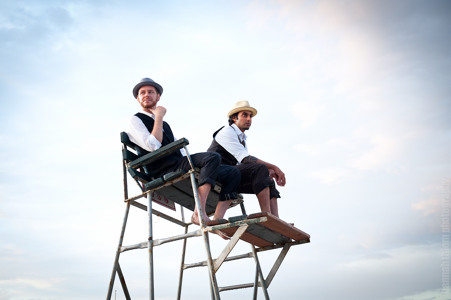 Sub Swara has been crafting genre-spanning bass-based music since their debut album, Coup d'Yah, was released in 2008. They draw from a variety of traditions, including Balkan, dancehall, dubstep, hip-hop, and Afrobeat. (They even collaborated with Antibalas on their last album.) Their second album, Triggers, came out last year, but they continue to produce new tracks. Their new remix has added an RJD2-like dimension to Lana Del Rey's "Video Games" that can only be described as "Balkan club funk."
Audio clip: Adobe Flash Player (version 9 or above) is required to play this audio clip. Download the latest version here. You also need to have JavaScript enabled in your browser.
There are several other Sub Swara releases worth persuing, as well. Their remix of Balkan Beat Box's "Balkumbia" is a good place to start – it sounds like a combination between Slavic Soul Party and Skrillex.
Balkan Beat Box & Sub Swara — Balkumbia (Sub Swara Remix) by Sub Swara
And of course you should listen to the original Lana Del Rey version, which will probably always be the best one. The video is amazing, too.
Audio clip: Adobe Flash Player (version 9 or above) is required to play this audio clip. Download the latest version here. You also need to have JavaScript enabled in your browser.