Archive for the 'balafon' tag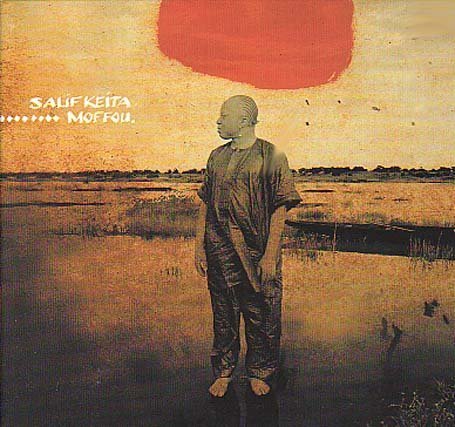 Despite being a direct descendant of Sundiata Keita, the founder of the Malian Empire, Salif Keita was cast out of his community and ostracized by his family because of his albinism, which is considered bad luck in rural Mali. Luckily for us he persevered, and started the groups Super Rail Band de Bamako (after the capital city, Bamako) and the more popular Les Ambassadeurs. He later fled during military unrest and established a more prominent career in Paris. He has been hailed by many in West Africa as "The Golden Voice of Africa," and if you live in San Francisco, Los Angeles, Savannah, or New York City (at the Apollo!), he'll be playing for you soon. Here are his US / Canada tour dates (credit to The Afropop Blog for alerting me to this):
Thursday, March 31: Edmonton, AB – Winnspear Center
Saturday, April 2nd: Vancouver, BC – Vogue Theatre
Monday, April 4th: San Francisco, CA – Yoshi's
Tuesday, April 5th: San Francisco, CA – Yoshi's
Wednesday, April 6th: Los Angeles, CA – Conga Room
Friday, April 8th: Savannah, GA – Trustees Theater (Savannah Music Festival)
Saturday, April 9th: New York, NY – Apollo Theater
Tuesday, April 12th: Ottawa ON – Ottawa Jazz Festival
Thursday, April 14th: Quebec City QC – Palais Montcalm
His style of music is largely traditionally West African, a bit like Toumani Diabate and his son Amadou, but his latest album, La Difference, incorporated jazz and similar sounds from such diverse sources as France and Lebanon, whose famous trumpeter Ibrahim Maaluf contributed a different sense of texture to what is normally dominated by such traditional instruments as koras, balafons, djembes, and guitars. Check out a couple of his tracks:
Salif Keita – Folon (Live) by Couleurs Urbaines
Salif Keita – Madan by Imogen
West Africa, and its tonalities, instruments, and rhythmic traditions, is responsible for a much larger share of American music than most know or would care to admit. African-Americans, who themselves were descended centuries ago from residents of countries such as Benin, Togo, and Mali, brought along with them the minor pentatonic scale (which, with the addition of the tritone, was transformed into what we now consider the blues scale), stringed instruments including the banjo, more syncopated rhythms than Europeans were used to, and a rich tradition of improvisation. These musical qualities stretched across the Americas, with Cuba showcasing the most prominent West African influence out of the United States. Before the late twentieth century, the exposure most of the non-African world had to West African music came indirectly, in the form of Cuban styles and American blues. Only recently have such artists as Habib Koite and the musicians of the Buena Vista Social Club, from Mali and Cuba, respectively, begun to assume a rightfully prominent place on the world stage.
AfroCubism, a band composed of members from Cuba and Mali who work in Latin (whose styles were also derived from Africa) and West African genres, recently released a self-titled album, AfroCubism, and it's unmistakably, deliciously West African in influence. The group's heart comes from the man himself – Toumani Diabate, essentially the Ravi Shankar of the kora (stringed Malian instrument) – who infuses the album with his distinctive style of kora. It's balanced nicely by the rest of the instrumentalists – Fode Lassana Diabate on balafon and Baba Sissoko on talking drum particularly stand out – and fronted effectively by Eliades Ochoa, who at his best evokes Djeli Diawara, the frontman and songwriter of the Kora Jazz Trio. There are bits of Santana-esque guitar throughout, which provides a nice counterbalance of traditionally "Latin" music as we Americans have come to know it, but fundamentally its sound is rooted in West Africa.
Sometimes it comes to sound a bit the same over the course of the entire album – one occasionally yearns for a bit of bombast, or something to shake out of the groove – but that's just what the album does best. And if you do like that groove – that kora and African percussion driven sound with vocals that sound spontaneous and organic more often than not – you'll love this. And who would expect otherwise? Throw musicians this talented together and it's bound to taste good.
4 / 5 bars
AfroCubism – Mali Cuba by World Circuit Records
Para Los Pinares Se Va Montoro by World Circuit Records