Archive for the 'Drake' tag
The holiday season just isn't a time for new, cool toys: it's also when the biggest album releases of the year drop, sending many of the world's most popular musicians on tour, just as the winter weather starts to creep in and grab its hold. Here are BluePromoCode's six don't-miss tours this fall and winter.
Drake: Would You Like A Tour
Drake's third album Nothing Ever The Same arrived last Tuesday to positive reviews – and Drake's wasting no time promoting it, taking off on October 19th to being the Would You Like A Tour he announced over the summer, bringing R&B singer Miguel and OVO artists like Future along for the ride. What promises to be the hottest tour of the fall is going to sell out quickly: so grab a Ticketmaster coupon and get your tickets before they're gone.
George Strait: The Cowboy Rides Away Tour
Since 1974, George Strait's sold over 70 million albums, amassing 60 #1 country songs over his celebrated career. The Cowboy Rides Away Tour marks the end of that career, Strait's final tour across America, culminating in his final performance at a yet-to-be-announced date in 2014. He'll begin the second half of the tour in January, continuing through the spring until his last concert – tickets which will undoubtedly sell out in minutes after their release. How can you be prepared? Bookmark our TicketNetwork promo code page now, and stop back minutes before release to get a discount on one of next year's biggest shows.
Kanye West: Yeezus Tour
Kanye West's first solo tour in five years also begins on October 19th (the same day as Drake), ending in Houston on December 7th. It also boasts special guest Kendrick Lamar, joining him for most of the dates on the schedule (check out Ticket Master for the full schedule, and bring a Ticketmaster coupon along with you), putting two of hip-hop's biggest heavyweights on stage together in what proves to be one of 2013′s most memorable tours.
Pearl Jam: Lightning Bolt Tour
To mark the arrival of their tenth album Lightning Bolt on October 14th, Pearl Jam are kicking off the first North American leg of their international tour in Pittsburgh on October 11th. Names d one of Rolling Stone's 19 hottest concerts of 2013, the Lightning Bolt Tour will head overseas after their December 6th performance in Seattle – which means it will have to be an early holiday gift for the Pearl Jammer in the family, but guaranteed to be a memorable one.
Trans-Siberian Orchestra: The Lost Christmas Eve 2013 Tour
Nothing goes hand in hand with the holiday season than rock-and-roll compositions of classic Christmas songs. That's right: it's the time of year for Trans-Siberian Orchestra concerts, an entertaining way to spend a snowy holiday evening with the family (and not an expensive one, thanks to our Ticket Liquidator promo codes) – and with more than fifty shows lined up between November and December across the US, there are plenty of opportunities to catch the visual spectacle of a Trans-Siberian Orchestra concert, something everyone will remember for holiday seasons to come.
The Weeknd: Fall Tour
The Weeknd's fall tour isn't going to last long – starting in October in the US, and ending in the UK in November – so don't miss out on one of the most critically-acclaimed R&B singers of the past decade, and grab a ticket with one of our TicketNetwork coupons now, and enjoy a night of hits from The Weeknd's hit 2013 album Kiss Land.
Slacker rock has been busy this year—something which goes against its MO of "getting lit" and waiting around for things to get better (but they always get worse) which Swearin' along with bands like like Speedy Ortiz, Waxahatchee, and Potty Mouth have been apathetically singing about all year.  Something about not being cut out for normal adult life is appealing to a large number of alt music consumers.  It's comforting to know you're not the only one.  Swearin's self-titled debut from last year will be followed soon by Surfing Strange on November 5th.
Some more Drake news for those that can't wait for his new album:  Shortly after performing this new track, "Too Much" on Jimmy Fallon, the second to last track from his upcoming Nothing Was The Same, (the live version from Fallon I believe) has made its rounds around the internet.  Also popular is Kastle's remix of Drake's astounding "Hold On We're Going Home" also from the upcoming Nothing Was The Same.
Definitely one of the best song titles Drake has come up with and this is the man who released "Girls Love Beyoncé" and "Hell Yeah Fuckin' Right".  Just short of his album release (Nothing Was The Same September 24) he shares this, the 4th track.  With production handled by Noah "40″ Shebib, the beat is wistful like Drake and dark like Wu-Tang's best jams.
And in case you're interested in another dubstep-rap track about cocaine check out "Machine Gun" by Chase & Status featuring Pusha-T.
What's that?  You don't like dubstep-rap?  Well try out this dubstep-R&B song by the Magician, "When The Night Is Over".  This song kind of sounds like what "I'm Too Sexy" will sound like in ten years.  Scratch that, it kind of sounds like it now.
Brooklyn's TheGoldenPony has quite the arsenal of remixes thus far – with remixes for Lana Del Ray, Ellie Goulding, Daft Punk, and many many more. Here's their latest remix for one of Drake's most recent tracks, "The Motion." This remix maintains the airy, minimalist vibe as the original, only adding more energy through playful synths and a bouncy kick-and-drum pattern, which climactically leads into somewhat of a Drum N' Bass rhythm later in the song. If you're ready to kick off your weekend and get the party started, check out this track.
Of all the pop/r&b artists around now I feel like only Drake could get away with releasing a single called "Girls Love Beyoncé." Not only does he release it without batting an eye, but it's also one of his most personal and emotional releases in awhile. It's this dichotomy of banal expression and emotionally intense confessions that puts drake in a league all to his own. he dark, moody production work is handled by Drake's main man, 40.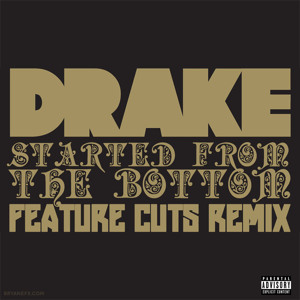 Electronic producer Feature Cuts just put out a catchy remix of Drake's recent release, "Started From the Bottom." It's a breath of fresh air to hear a dubstep remix that doesn't rely on dropping the bass to make it stand out. Instead, Feature Cuts works in the wobble with the beat itself – creating an ideal dance track for an agile mood.
Drake – Started From The Bottom (Feature Cuts Remix) by Feature Cuts
I wasn't initially excited to hear that Drake had released a new song; he's not a rapper whose career ever really interested me for any reason other than his stint as a Canadian television star. And I was wrong to be so dismissive (though I suppose that such conflict between image and artistic viability are sort of the norm forDrake) because "Started From The Bottom" is pretty excellent. It may be difficult to think of him as a profound force in hip-hop, but Drake manages consistent returns for his fans with catchy, robust songs that play excellently to his strengths as an MC.
"Started From The Bottom," which was released this past Friday, loops a Final Fantasy-esque piano riff under droning lyrics that hit against and recede from a consistently pleasing melody. Mike Zombie's production is spot-on here, and manages to sharply and sufficiently remove Drake  from his Young Money confines. The influence of Kendrick Lamar's recent output is distinguishable on "Started From The Bottom," and this borrowed mood suits Drake nicely, perhaps even giving credence to the idea that Drake is playing the hip-hop game as well as anybody.

Here's a clever new rap from Internet sensation D-Why, "2,000 miles". I detect some Drake and TI in this kid's blood/ flow. Also, decent video.